We've given our website a makeover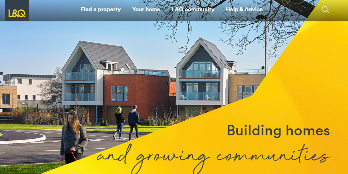 Over the past few months our web team have been busy bringing our L&Q website up to date to meet the changing needs of our residents.
In a survey taken last summer (September '19), over 60% of our residents told us they would prefer to manage their account online. The current coronavirus pandemic has also played a part – highlighting how useful online activities can be in managing day-to-day tasks or finding help and advice readily available when we search. We have worked hard to respond and provide our residents with a website that matches the digital age we live in.
Our web team have created a fresh new website that's easier to use and more accessible for all. It's also compatible with mobile devices and tablets and will provide a better online experience for our residents to help them manage their homes with us.
It has been designed to help residents to find what they need and get help and advice from the right team. With new search functionality, it's now easier to access key information, documents, submit forms and, contact us online.
And this is the first step towards launching our new online resident account. From next month, residents will be able to view their balance, transactions and make payments from their online account. Look out for further updates, and communications from us in the coming weeks.