L&Q residents get dancing shoes on thanks to Sport England
L&Q residents in sheltered and supported living schemes are being encouraged to put on their dancing shoes thanks to a £116,000 grant from Sport England.
The housing association has used the funding to partner with organisations including DanceWest, which is offering online dance classes tailored to reach vulnerable people who have been isolated during the coronavirus pandemic.
The National Lottery funding is distributed by Sport England from the Tackling Inequalities Fund, which aims to improve activity levels in those who are most at risk of being negatively affected by the coronavirus pandemic. This funding and support will enable community groups working with target audiences – including BAME communities, disabled people and people with long term health conditions - to continue to engage with their communities with a view to keeping them active during both the lockdown and early recovery stages.
Rosie Whitney-Fish, the Chief Executive of DanceWest, which has been given £13,500 of the funding, said her team was organising a programme of live-streamed dance classes, choreography competitions, discos and tea dances to encourage elderly and disabled L&Q residents to keep their activity levels up over autumn and winter.
She said: "It's so important to move, especially if you are more isolated because you are in the group of people who have been asked to reduce your interactions. Building mobility, strength and fitness is really important for staying well, both physically and mentally. Since April, we moved our work online and looked at how we could reach as many people as possible. We did a survey to find out what kind of technology our audiences had access to so we could adapt our offer. We've posted out DVDs and put together Zoom guides for people who have found setting it up a barrier. We have 54 teachers and we've been able to support 5,000 people online.
"The online programme is a lifeline and the classes are a connection to the outside world. A lot of people say, 'I'm not a dancer, it's not for me,' but then they see that dance does so much for your physical and mental health, and gives you an opportunity to connect with other people in a fun way. The teachers give individual feedback and there's a lot of support and communication in between classes as well, which provides social connections too."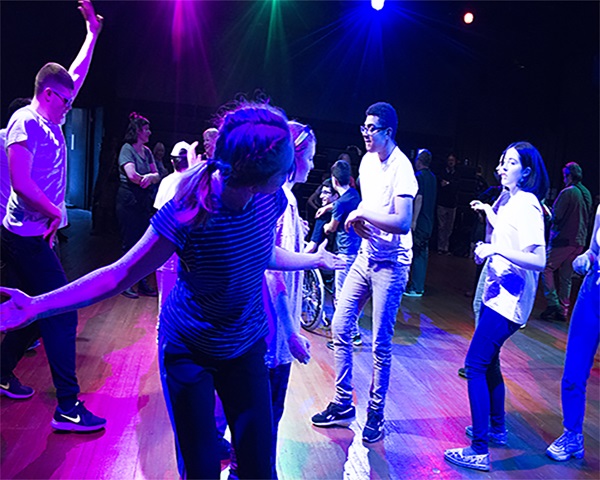 The funding will allow L&Q to build on the work they are currently undertaking to improve health and well-being amongst their residents and in the communities where they operate. The DanceWest classes will benefit residents of L&Q Living, the housing association's care and support arm.
Sport England has channelled £3.3m through 43 Active Partnerships across England to help community groups in their areas deal with the impact of the coronavirus pandemic.
Matthew Corbett, Director of the L&Q Foundation, said: "We know that the pandemic and social distancing has made it even harder for vulnerable people to access opportunities to exercise and maintain their physical health, at the very time when it is most important for them to do so.
"This vital funding from Sport England has enabled L&Q to engage brilliant organisations such as Dance West, who are committed to making exercise accessible and attractive to our residents. We are looking forward to seeing the programme in action over the coming months."
Tim Hollingsworth, Sport England's Chief Executive, said: "We are proud to be able to provide funding and support to L&Q in this difficult period. This funding will help support our valuable community infrastructure that is so important in keeping the nation active and will also provide important connections and reconnections for people whose lives have been affected by COVID-19 and for whom remaining active is so important for their physical, mental and social wellbeing. We know from our research and data that there are existing inequalities between groups when it comes to activity levels and Covid-19 has re-enforced these.
"Thanks to the support of the National Lottery and its players, the Tackling Inequalities Fund will be both crucial and central to ensuring no-one is left behind when it comes to having the opportunity to be active during this period. This builds off the back of our £35m Community Emergency Fund that has already reached and supported over 7,500 community clubs and groups across England."