L&Q residents bring defining era of Black history back to life
In celebration of Black History Month, L&Q residents came together to re-live memories and experiences, from the Windrush generation to now, and with a particular focus on motherhood, at the Black Cultural Archives in Brixton on Thursday October 21.
Nine female residents from South London, including L&Q's Senior Independent Director, Fayann Simpson, attended the resident-led event, which focused on the importance of neighbours in shaping supportive, cohesive communities where every person's voice is heard.
Attendees learnt about the success of local initiatives, such as the Young Mum's Support Network and the Milkwood Community Park and Gardens, in reducing intergenerational isolation and strengthening community ties, whilst also reflecting on lessons learned from effective Covid community responses.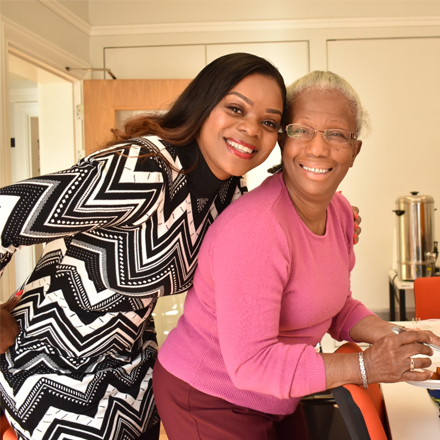 Attendees at the resident-led event
Fiona Small, member of L&Q's South Neighbourhood Committee and Founder of the Young Mum's Support Network, said:
"Last week's event served as a brilliant opportunity to explore, discover, and celebrate Black history, heritage, and culture in Brixton– both past and contemporary. The conversations had brought to life just how important it is to listen and forge partnerships with residents to build safe and supportive communities together.
It was heart-warming to see attendees connecting with one another and setting up opportunities for further collaboration, such as a new community sewing group, that will have profound and long-lasting benefits for local people."
In line with the Social Housing White Paper, a key theme from the event was how landlords can make effective and consistent use of residents' knowledge, passion and skills to drive ongoing service improvements.
Founded on an ambitious vision of what resident involvement can achieve, L&Q's eight neighbourhood committees help to develop policies that bring change to local communities and the services we offer, as well as giving residents a say on how we spend funding to meet local need.
Sophie Leedham, Head of Resident Involvement and Accountability at L&Q, said:
"As an ethical and inclusive organisation, we are proud to celebrate Black history and the significant contribution Black people have made to the fabric of the UK, over hundreds of years. This year we are also very proud to see our residents and cultural diversity network, Kaleidoscope, taking the lead in spotlighting Black history across our organisation and communities.
Bringing together women from different generations, but the same neighbourhood, and hearing their rich collection of reflections and experiences, was both powerful and thought-provoking. And beyond Black History month, this event will act as a steppingstone to further conversations and positive action, by encouraging residents inspired by the women's stories, to become a neighbourhood champion or to join one of our emerging resident diversity networks.
Our heartfelt thanks go to Fiona Small for setting up such an engaging and inspiring event, and to everyone else who attended and contributed on the day."
Jelissa Johnson, Administrative Assistant at the Young Mum's Support Network, said:
"Speaking to the older generation gives you hope as you know that the challenges you face, they have overcome. If they have overcome them, then so can we."