Children's mental health group celebrates at Stretford Mall
Families, friends, colleagues and supporters gathered at Stretford Mall recently to celebrate with Calm Connections, the community interest enterprise that supports families of children and young people with mental health and wellbeing challenges.
The organisation was founded five years ago by CEO Emma Lenihan, and recently secured funding has ensured that they can continue to bring mental health support to the high street.
The new funding comes at a vital time for Calm Connections, who are also celebrating the first anniversary of their move to the Mall.
As well as families and friends, they were joined by organisations that have provided the funding, including L&Q, The Oglesby Charitable Trust and the National Lottery.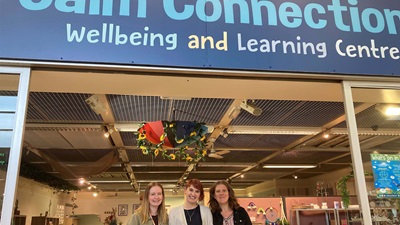 Emma said:
"We are all delighted that Calm Connections is recognised as the place to come for support and help around children's and young people's mental health. As parents, who have supported our own children, we know that getting help and support at the earliest stage is crucial for the young person and their whole family. The funding provided will enable us to help and support many more families at our Wellbeing Centre in Stretford, through groups and one-to-one support."
Zoe Taylor, Communities Manager at Sale-based L&Q, said:
"We have supported Calm Connections since their very beginnings five years ago, and we're delighted to see them celebrate their first year at Stretford Mall. Supporting the mental health and wellbeing of youngsters is incredibly important, and Emma and the team offer a vital service for the whole family."
Louise Magill, Trust Manager at The Oglesby Charitable Trust, said:
"We have always been committed to supporting the physical and emotional health and wellbeing of young people, and know that now more than ever, the contribution of the Voluntary, Community and Social Enterprise (VCSE) sector is crucial to this work. As a place-based funder, we are delighted to contribute to the core work of Calm Connections, whose holistic, community-based approach has already proven so vital to young people and their families in and around Stretford."
Find out more information on Calm Connections.