Case study: "Shared Ownership meant we didn't have to choose between our dream home and a wedding!"
Discover how James and Walter got their dream home through Shared Ownership with L&Q.
Recently engaged couple Walter and James decided it was time to start thinking about getting onto the property ladder - but they didn't want to have to choose between a home and a dream wedding.
"We felt it was time to enter a new stage in our lives and settle down. We didn't want to put our new life on hold.
"Of course, buying a property and planning a wedding are big financial commitments, and we didn't want to sacrifice our dream for either. The first thing we did was meet with a mortgage broker, who recommended Shared Ownership based on our situation.
"We weren't in a position to buy on the open market and plan our perfect day – one would have needed to be put first. But Shared Ownership meant that we didn't have to choose between a wedding and new home."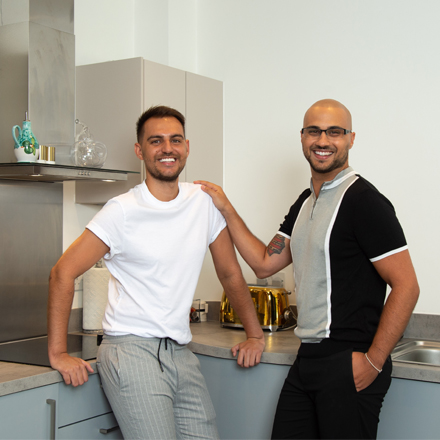 Walter and James
Having lived in North Acton for three years, the couple were keen to stay local if possible.
"Acton is perfect for us. It really offers the best of both worlds – it's quiet and green, but still close to everything with easy access to central London.
"We started our search in September 2019, and the first property we went for ended up falling through during the mortgage process. But as this was happening, friends of ours were buying with L&Q and that's how we found Acton Gardens. We now all live in the same building!"
Located in the heart of Acton, Acton Gardens is the award-winning west London development from L&Q and Countryside Properties. Through L&Q Shared Ownership, Walter and James were able to purchase a 50% share in their one bedroom, ground floor apartment at Acton Gardens.
"You know when you first see a property and just know that it's meant to be? When we first walked into Acton Gardens, we smiled because we immediately knew that this was it. We started our process in January and were very anxious to complete and move in because of the circumstances. Luckily we were able to move in just before lockdown!"
Though the pandemic has unfortunately put their wedding plans on hold until next year, Walter and James saw lockdown as an opportunity to really get settled into their new home.
"We absolutely love living here. We have a little terrace that looks out onto the park, it's so green and peaceful. Moving in just before lockdown ended up being a blessing in disguise – as we were both working from home, we were able to take the time and personalise the space. We did all the work ourselves – painting the walls, hanging the curtains and the new chandelier – the apartment almost became our job!"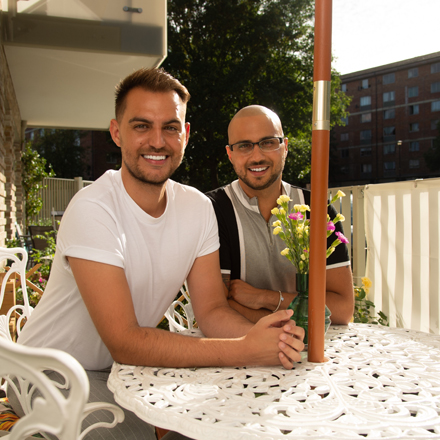 Walter and James on their terrace
Walter and James found the buying process simple and straightforward, and recommend Shared Ownership to other buyers looking to take their first steps onto the property ladder.
"Shared Ownership from L&Q worked perfectly for us. Buying your first property can feel daunting, but L&Q simplified the process. Our sales executive was fantastic – she kept us in the loop throughout the process and answered all of our questions. Working with her took away the anxiety that comes with buying any home.
"We would 100% recommend Shared Ownership. Because you're paying a mortgage, you feel like you're investing your money in your future. Plus, you can actually end up saving – our monthly costs are about 30% less than when we were renting! These savings mean that we can focus on planning our dream wedding while living in a home of our own."