Haringey residents learn to 'upcycle'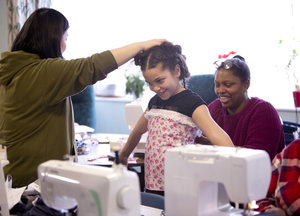 The L&Q Foundation, part of housing association L&Q, has joined up with ethical clothing brand Mayd to deliver upcycling sewing workshops to local residents in Haringey.
During the workshops, residents are taught how to use a sewing machine and given different projects each week which focus on recycling used materials. Projects include making cushion covers out of old fabric and backpacks out of jeans.
The classes have been taking place at Jubilee Court, one of L&Q's sheltered housing schemes, with those attending a mixture of sheltered and other local residents.
Mayd founder Fran Huesser is passionate about upcycling and reducing waste in the fashion industry. As well as supporting residents to learn sewing skills, the workshops show them how to turn something old and unwanted, into something new and beautiful. 
Matthew Corbett, Director of L&Q Foundation said: "These workshops are a wonderful example of what we are trying to achieve locally, giving residents the opportunity to learn new skills, promoting independence and combating isolation in our communities.
They have been a huge hit with residents and we now have a waiting list of people wanting to take part. We are currently discussing plans to set up another group in Haringey."
Fran Huesser, Mayd Founder, who delivers the workshops said: "I love teaching people how to refashion their unwanted clothes as well as learning new skills and taking pride in their achievements. I'm passionate about using existing resources to stop people throwing garments away which end up in landfills.
Through sewing and attending the workshops people connect with each other and make new friendships, which contributes to a sense of community in their area."
Case study
Olivia Nelson-Reshat has been attending the workshops since they started. She said: "When I was younger I studied fashion design and used to make clothes all the time. My mum even bought me a printing table and I used to design and print my own fabrics"
Olivia is a busy mum and hadn't sewn for a while when she heard about the workshop. She said: "I hadn't sewn for ages which is a shame because I love it, but when you have a family it's hard to find the time - you're so busy, you just never seem to get round to it. When I heard about the class I signed up immediately. It makes such a difference having a place to come and dedicate a whole morning. It's also great to meet other people and I'm able to help those who are just beginning.
As well as completing the weekly projects, Olivia has been making clothes for her daughter Sureya, who came along to the workshop during her half term. She said: "I've taught all my children how to sew over the years. I been giving Sureya little projects to work on and she loves it."
"I hope there are other workshops in the pipeline to give others the chance to do something like this on a regular basis, not just in sewing but wood craft, mechanics, painting and decorating... I think a beginner coming here every week would be able to make garments good enough to sell within a year. It really upskills people!"