L&Q set to transform Reading industrial estate with nearly 800 new homes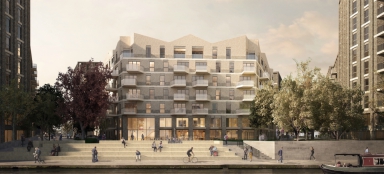 Reading Borough Council has resolved to grant planning approval to L&Q to build 765 high quality homes in Kenavon Drive, a short walk from Reading Station, to alleviate the pressures on housing and rejuvenate the local area.
Working with leading architects PRP, the whole development is driven by transformation; bringing substantial regeneration through the delivery of homes close to the town centre, together with beautifully curated new public open spaces and a comprehensive landscaping strategy. The 765 homes, of which 157 will be affordable for local people, are a combination of one, two, and three bedroom flats as well as a selection of family houses.
Transport infrastructure is vital for a development of this size, and L&Q are accompanying the homes with over 300 parking spaces, a dedicated bus stop, and improved walkways to the excellent bus and rail network in Reading town centre.
During the Planning Committee meeting Councillor Page welcomed the application noting 'the design of the scheme is high quality and one we should all welcome' and that it was a 'remarkably attractive scheme delivering huge benefits'.
Craig Luttman, Regional Managing Director (Counties) at L&Q said:
'I am delighted we can move ahead with this development which will breathe new life in to Kenavon Drive. We have worked tirelessly over the past year to propose a development of high quality homes and beautifully landscaped public space for the whole community to enjoy.
We aren't just building homes; we are investing heavily in local infrastructure and creating a new destination with ample community facilities, employment opportunities and an ecologically enhanced riverside walk to improve biodiversity.'
Craig Sheach, Director of PRP said:
'We were inspired by Reading's history, the site and L&Q's aspirations for the project and have developed a design which we believe is deeply rooted in its place, drawing inspiration from the former site's industrial character When delivered, the scheme will enhance the eastern quarter of Reading and provide residents and locals with a well-connected, walkable neighbourhood and place to enjoy a leisurely moment by the water - something that doesn't happen currently at this part of the River.'