Christmas lights switched on at Acton Gardens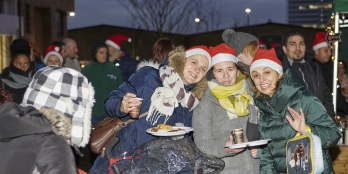 On Monday 11th December, the Christmas tree lights were officially switched on at Acton Gardens, L&Q and Countryside's flagship regeneration project of the former South Acton Estate.
Children from Berrymede Infant School joyfully opened the event with a mixture of festive carols and a medley from their nativity, before the local Reverend Dean Ayres continued the celebrations with a Christmas reading. Cllr Yvonne Johnson led the approximately 100-strong audience in the countdown to the official switching-on of the Christmas lights.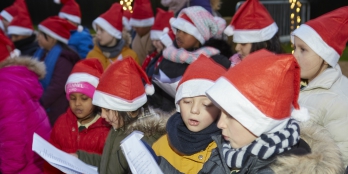 Following the event, families were invited to join Cultivate London to make their own Christmas wreathes, with 30 families taking the opportunity to embrace their creative side, making personalised wreaths from scratch.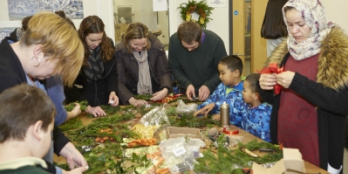 The 20ft Christmas tree was donated to Acton Gardens by Acer Landscapes and is situated in the newly opened West Park, a public park between Phases 4 and Phase 5 of Acton Gardens.
The event was supported by a number of local community groups and stakeholders, including Berrymede Infant School, horticulture charity Cultivate London, the United Anglo Caribbean Society and Bollo Brook Youth Centre.
Mike Woolliscroft, Managing Director for West London at Countryside Partnerships South, said: "Despite the cold, it was great to see local residents spending time with their neighbours and enjoying the warming refreshments on offer. Events such as this play a vital part in furthering community engagement and maintaining the thriving South Acton community."
David Stevenson, Head of Joint Ventures, Development and Regeneration at L&Q, said: "This was a fantastically festive celebration for the Acton Gardens community, and it was really satisfying to see the strength of community spirit. I think the front doors of Acton Gardens are going to be the best decorated in the capital!"
Expected for completion in 2026, Acton Gardens is an ambitious £600m project being delivered by Countryside and L&Q, creating 2,500 brand new homes, and new community facilities, encompassing 52 acres. The development is forming a new community in Acton, designed to connect to surrounding neighbourhoods through a range of new walking routes.