Schoolchildren hit the red-carpet for film premiere thanks to L&Q funding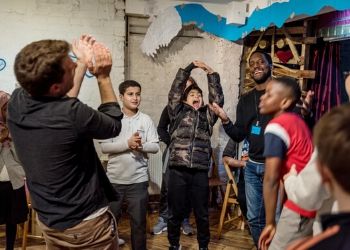 A group of schoolchildren invited family and friends to a red-carpet premiere to show off their hard work as part of an exciting film project thanks to funding from housing association L&Q.
The Literacy Pirates were awarded £7,000 from L&Q's Place Makers fund, which enabled 145 Hackney pupils to take part in the project.
The charity, with bases, or 'ships' in Hackney and Haringey, helps support children to develop their literacy skills.
As part of its programmes, 285 pupils from 24 schools in Hackney and Haringey – known as 'young pirates' – attend weekly sessions, that last around two-and-a-half hours.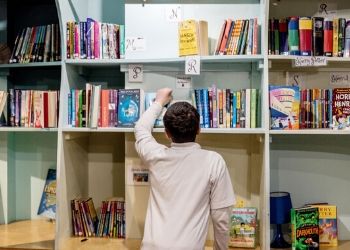 The session involves a period of reading with volunteers, before the pirates come together and work on a large project, each term.
The first term is a book project, where the children see their poems published, the second a film and the final a podcast.
The Hackney film project – The Quest for the Golden Quill – was funded by the Place Makers Local grant this year.
"The film project is the mid point – so we can make sure they're motivated because it's something big and exciting," Carmen Nasr from the fundraising team explained.
"Because there's a tangible project at the end, it helps the children persevere."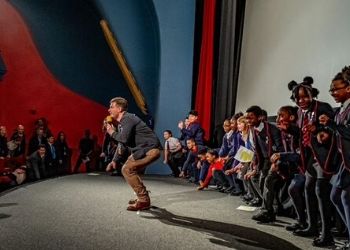 350 people, including parents, teachers and pupils, joined the young pirates at the Rio Cinema in Dalston at the beginning of March for the film's premiere.
The students will now use their new-found fame to produce posters on a cause they're passionate about.
The charity works with pupils between the ages of nine and 13, who are referred to the ships if they are not reaching their age-related expectations for literacy, or are low in confidence.
"If they don't catch up, the gap widens, and intervention is more difficult once they get to GCSE age," Carmen continued.
"It's about confidence and perseverance. There's a real focus on positivity.
"Research has shown that literacy is the key to success in other parts of the curriculum.
"Children whose literacy is not up to scratch can struggle elsewhere, it's a key skill for kids to attain in, both at school and beyond.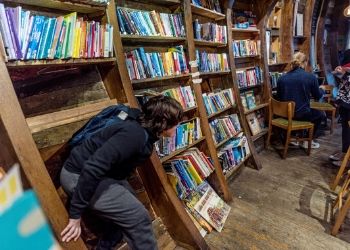 "It's a fantastic space here. We want it to be a motivational space where we work really hard – but we are cultivating a more positive relationship with learning.
"Once we knew it worked, impact was measured. On average, across the young pirates' reading age goes up 15 months in 9 months, which is around 50% faster than age-related expectations"
The ships are kitted out in a pirate theme with wooden beams, book shelves and even have a secret passage.
Children are referred if they meet certain criteria and will attend for a full academic year.
"When the kids first join, we're always relentlessly positive and we make sure that when they are coming here they are experiencing success," Carmen added.
"Our aim is to encourage growth but our main aim is for them to have a great time and make sure they've achieved something.
"For them, they get to leave feeling really good about themselves.
"We work hard to make sure they don't feel they are coming here because they're not doing well.
"Each session has a mixture of different schools, which is an accidental benefit as children get to meet children from elsewhere.
"It's great for building new relationships within the community."
The charity was founded by a teacher in 2011, and a second ship in Haringey was added in January last year.
"We'd absolutely recommend the Place Makers fund to other charities," Carmen said.
"It's really well organised and the whole process is really quick and clear.
"We will be applying for the growth fund next year."
Joe, 10, who is in year 5, goes to the Hackney ship every Monday.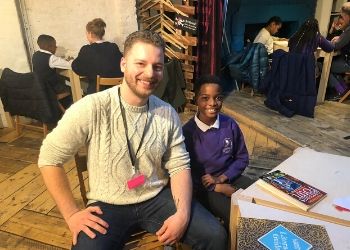 He said: "I love coming here to make friends and it helps me learn a lot. I've met friends here.
"I loved the film. It was about a pirate's quest. Then I got to pick a handful of sweets."
Matthew Corbett, director of the L&Q Foundation, said: "At L&Q it is our mission to create homes and neighbourhoods that residents can be proud of and the work that The Literacy Pirates do with children is fantastic.
"It is exactly the kind of project we want to support.
"We are thrilled our Place Makers fund was able to help put the film project together."
The pirate ships closed their doors on March 16, and determined to continue to support the children they work with they created a virtual ship in ten days, launching it a few weeks ago.
The children can now access writing and reading activities, tutorials and personalised feedback from home.
The virtual ship offers bite-sized activities using low tech so that everyone with access to a mobile phone can use the materials and there are weekly writing challenges giving children the chance to splurge, draft, refine and redraft a story.
A special 'Diary of an Extraordinary Spring' has been sent by post to children to record their thoughts during this truly historical event.
Jude Williams, chief executive, said: "We have always thought of ourselves as a venue-based programme, so this has challenged us to create something online for Hackney's children, while holding onto our purpose and ethos.
"It is not about creating a fancy website, it has been about creating a connection between the child and teacher.
"The learning process is premised on that relationship."