L&Q announces formation of new Development and Sales region for London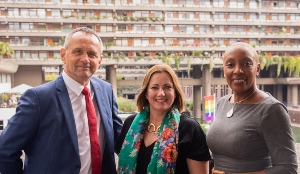 L&Q has today reaffirmed its commitment to building homes in London, with the formation of a new Development and Sales Division for the capital.
The leading charitable housing association's new region will be led by Vicky Savage, London Managing Director. She will be supported by two new Regional Development Directors, Jacqueline Esimaje-Heath (North London) and Neil Davis (South London).
L&Q's development operations had previously been split into Counties and North, East and South London regions. The new structure will unite L&Q's London offer and see Vicky work alongside Craig Luttman, Deputy Group Director of Development and Sales, who has responsibility for L&Q's developments outside the capital. The changes will enable the organisation to continue to grow more effectively in the market whilst investing in its existing stock.
The combined team is charged with delivering L&Q's commitment to tackling the housing crisis by enabling the delivery of 100,000 quality new homes over ten years.
Vicky inherits a pipeline of 12,500 approved homes in London, and projects including Barking Riverside, Beam Park and the ground-breaking Build London Partnership.
L&Q's new structure will provide clear points of contact for its partners, from the GLA to local authorities and housebuilders. The structure will mirror its housing management division, reflecting the importance the organisation is placing on quality and health and safety.
Vicky Savage, London Managing Director at L&Q said, "London and the South East have always been L&Q's heartlands, and we are committed to the capital whilst expanding to new areas around the country."
"I am excited to be leading our fantastic new London region at this important time as we continue with our ambitious mission to tackle the housing crisis. By making these changes, we are better enabled to be the partner of choice for government, the GLA, local authorities and housebuilders.
 "Our message to the sector is clear – our door is always open for partnerships. Let's work together to build the homes and communities that London needs."