Community stars shine with outstanding achievement
Outstanding achievements by residents in assisted living schemes, not only in overcoming challenges but helping others, were recognised at a gala ceremony held by a housing association this week.
The yearly event is held to recognise the success of vulnerable residents in L&Q Living supported accommodation in making progress in their lives, as well as the work of exceptionally dedicated staff. L&Q Living – which is part of the L&Q Group – provides support to over 6,600 vulnerable and elderly residents across London and the South East, and staff organise the event to celebrate their lives and achievements.
To highlight the amount of hidden talent in the L&Q Living community, the event kicks off with a show before the award ceremony, and this year it tapped into a popular theme, with Newham's very own Strictly Come Dancing competition finals!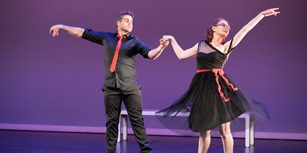 Six residents from L&Q Living assisted schemes took part in the dance contest, having practised for several weeks with professional dancers. The judging panel included Rashmi Becker, a patron of the Wheelchair Dance Sport Association who works with government to promote the wellbeing of people with disabilities and autism. Rashmi was involved throughout with training the dancers.
Rashmi said: "I am an absolutely passionate about dance as a creative form of self-expression and a powerful medium for building connections that give our life meaning. All the contestants did brilliantly, and I'm very proud to have been associated with this event."
After a stunning dance display by all the contestants, in front of  BBC TV cameras, the winning vote from the audience went to Avril Payne, who lives in a scheme in Bocking, Essex. You can watch the BBC news item on iplayer.
Following the dance final, the event moved on to presentation of the Community Stars awards. Eight categories were open for nominations in the awards, which are presented to L&Q Living residents and support staff for achievements and outstanding work. 
The whole event was compered by Charlie Culshaw, L&Q Director of Care and Support. Charlie said: "Today's event was a great opportunity for our supported residents to share their talents and for us to celebrate their achievements. I was delighted to see so many residents, their families and partner organisations at this event."
Winners of Community Stars Awards 2017
Tony Romano was chosen as The Volunteer of the Year for the enthusiastic way he embraced volunteering and the independence and confidence he has gained in support of his recovery.
Tony, 40, has been volunteering for over a year in a Salvation Army bike shop. It helps to add structure to his weekly routine and he has stayed committed. Tony is skilled at fixing things and as well as attending volunteering, he goes to college.
When Tony first moved into an L&Q Living property a couple of years ago, this was his first home in several years that didn't have staff on site 24/7. Tony has adapted really well, from learning new skills to becoming independent and beginning to manage his financial affairs alone.
After receiving the award, Tony said: "This award reflects the guidance I received in the scheme to take up the volunteering activity, which was the key to my steps to recovery. I am very grateful to all those who helped me and am very proud of this award."
Most Outstanding Move-on Award went to George Agbapuruonwu. The 35-year-old  has exceeded expectations since moving to a supported living scheme for adults. He has been engaged in positive activities since his move and has even spoken out about the importance of funding projects like the one that he lives in.  He is now enrolled in university and is doing an economics degree whilst continuing to engage in support and his recovery.
Teresa Saunders took home the Good Neighbour Award. A resident at Bluebell Grange, in Manor Park, she was nominated for all she's done for other residents past and present. She cared for Christopher, her brother, when he became terminally ill and helped another resident during his battle with cancer and stroke, allowing  his carer to have some free time. She's also done a great deal for Alice, another resident, when she started to become very ill. She cooked, cleaned, and shopped for her - and did it all in good faith, with no recompense.
Most Positive Role Model this year is Margaret Stones. Her nomination from a neighbour in her home stated: "Margaret is the person you can talk to in the strictest confidence and she always explains everything and answers any questions I may have and is always ready to help out. I can count on her at all times, and have been able to do so since the day I moved here, nine years ago. She does all this whilst she looks after her sick brother – a good example to everyone."
The winner of The Most Helpful Support Worker award was Kelsey Cook, who, as her nomination declares, "is our yes girl within the scheme", and happily takes on any new responsibilities. Kelsey has the tasks of being responsible for the medication in the service, and even though this is a very time consuming and responsible job she never declines helping anyone else. Kelsey is a pleasure to work with and has a great rapport with all the service users within the scheme. Kelsey often picks up shifts, stays on and comes back to the service in emergencies. She provides an outstanding service.
The award for The Citizen of the Year, a member of the public who is nominated for their selfless work in the community went to Glenis Game the daughter of an L&Q Living supported resident. and As well as  looking after her disabled father, Glenis gives her time unstintingly to improve the lives of the other elderly residents living in her father's scheme.
Award categories also included
Most Supportive Professional  Donald Hamilton
Most Supportive Business Motivate East.