Young Barnet resident thrives during two-year apprenticeship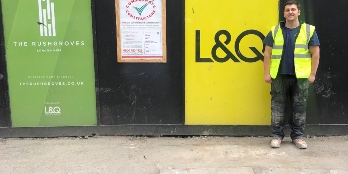 Keyan Mokaram is a Barnet resident who is currently completing an apprenticeship with Woodford Heating and Energy while studying for a Level 2 Diploma in Plumbing Studies.
Woodford Heating and Energy are one of the UK's most successful mechanical and electrical services companies, and are working alongside L&Q Housing Trust to create 387 new homes at The Rushgroves in Hyde Hendon, Barnet.
L&Q's focus on creating apprenticeships as part of their new schemes has resulted in over 50 such roles with subcontractors like Woodford, who share the ambition to create career opportunities for local people and help meet growing demand for skills in the construction industry.
Keyan's journey so far:
After gaining work experience with a small domestic plumbing company, Keyan decided that a career in construction was for him. He began his job search online, using the find an apprenticeship website. Through this service, Keyan registered with Barnet and Southgate College. After attending an interview with Woodford, he successfully secured the apprenticeship role, which started in September 2018.
Over the past ten months Keyan has been learning key skills on site, under the expert supervision of Woodford, and also spends one day a week at college studying for his diploma. This combination of practical training, supplemented by regular learning in the classroom, provides a holistic and structured approach to ensuring apprentices achieve their learning goals.
Keyan said: "From the beginning, Woodford and L&Q have been helpful and supportive. Despite feeling daunted by working on such a busy site, they put me at ease and gave me encouragement.
"As I have always learnt in a practical 'hands on' way, it has really helped that Woodford have given me the time and space to try things out. This has given me confidence, because I know one of my team will always be there to give me guidance, provide safe supervision and help me learn from my mistakes.
"My advice to anyone thinking of an apprenticeship is go for it 100%! I now have certainty in my life and once I'm qualified I'm hoping to continue to develop my career with Woodford."
Marc Mckenna, Social Value Business Lead at L&Q said: "L&Q works with our contractors to secure positive outcomes for our residents and communities, including jobs and training opportunities. This collaboration helps support our mission to combine our social purpose and commercial drive to create truly sustainable neighbourhoods we can be proud of."
Cathy Laine, Apprenticeship Manager at Woodford Heating and Energy, added: "Woodford Heating and Energy is proud to offer a comprehensive apprenticeship training programme. We give all our apprentices the opportunity to build their careers right the way through to qualification.
"It's been a pleasure to work with L&Q and Barnet and Southgate College to create this opportunity for Keyan. He has demonstrated lots of enthusiasm to learn and I'm confident he has a bright future within our industry."