Small sites key to solving housing crisis: Build London Partnership starts on first site.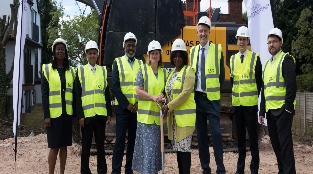 Senior figures from the GLA, Ealing Council and leading housing association L&Q gathered on Monday 1 July to celebrate the start of construction works on the Build London Partnerships first site.
L&Q is partnering with small housing associations across London to unlock small sites and realise the capital's build potential through the Build London Partnership programme.
Jointly funded by the L&Q Foundation and the Greater London Authority, the programme aims to start on 1,000 new affordable homes in London by March 2022.
The ground-breaking programme will see the L&Q Foundation invest £100 million, and the GLA £80 million to provide affordable homes across London. The initiative will support housing association partners with the development process from inception to completion and then handover the completed homes at cost.
The site at 18 Montpelier Road in Ealing will see 16 new affordable homes built by Taylor French Developments Ltd on behalf of L&Q for Westway Housing Association. The homes, which will include a mix of shared ownership and London affordable rent, are due to be completed in August 2020.
Westway is a community-based housing association in London, which provides housing for those in need at rents they can afford. Westway seeks to build balanced communities and provide opportunities to people who have faced discrimination, especially people from black and ethnic minority communities.
David Montague, Group Chief Executive at L&Q said, "We are delighted to have reached this major milestone in the Build London Partnership's journey. We believe that everyone deserves a quality home they can afford. Schemes like this will create affordable housing for people who might otherwise face being priced out of their neighbourhoods.
"Our door is always open to working with other small housing associations, and we look forward to working with our partners to bring forward the homes London so desperately needs."
James Murray, Deputy Mayor for Housing & Residential Development, said: "We're helping small housing associations play their part alongside the bigger ones to build the social rented and other genuinely affordable homes Londoners so desperately need. Our new approach – the Build London Partnership – aims to help small housing associations get 1,000 homes underway over the next few years, so it's very exciting to see work start on the first site at Ealing."
Ricky Scipio, Chief Executive at Westway said, ""Westway Housing Association are extremely proud to be one of the early adopters of the Build London Partnership, led by L&Q, which has resulted in a 16 unit new development located in Ealing. This new supply of much needed affordable housing may not have come to fruition without this ground-breaking initiative."
Tony Clements, Executive Director of Place at Ealing Council said: "Ealing's pledge to deliver 2,500 genuinely affordable homes by 2022 makes us London's most ambitious council home builder.  We will directly build around half, and we need our housing association and developer partners, both big and small, to contribute the rest. This approach will bring new associations into the development business, providing more desperately needed affordable homes.
"We are strong supporters of the Build London Partnership and are delighted to be the location of this first successful development. We hope other smaller housing associations will take part in the scheme."
Gina Amoh, Chair of BME London Landlords said: "'We want this to be a flagship example of how larger HAs and the GLA can help support smaller HAs to develop and help increase supply of affordable housing."