National housing charity L&Q calls on local partners to shape community investment priorities for Warwickshire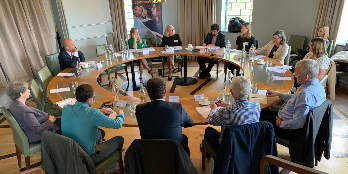 L&Q, one of the UK's leading charitable housing associations, convened a roundtable of local councillors and groups from across Warwickshire to discuss its future community investment priorities.
The event was held as L&Q announced plans to expand into the region, building quality affordable homes whilst investing in local initiatives and the economy.
The investment package will support projects and community activities through L&Q's £250 million charitable Foundation – set up in 2011 to bring together its social and economic programmes.
The roundtable was attended by a broad range of local organisations including Warwick District Council, the Shakespeare Birthplace Trust and the Warwickshire Wildlife Trust. The discussion focused on three key topics: health and wellbeing, environment and culture and workforce.
The input from these discussions will be used by the L&Q Foundation to help inform its bespoke regional investment and partnership package for the region, which will be announced later this year.
Fiona Fletcher Smith, Group Director of Development and Sales at L&Q said: "It's great for L&Q to meet with local representatives and understand how we can contribute to the fantastic community in Warwickshire.
"L&Q is about more than bricks and mortar. We want to work closely with local partners to create a lasting impact in the areas we work. The conclusions from this roundtable, building on the knowledge and experience of our fantastic attendees, will be pivotal to guiding our strategic decision making over the coming years."
Tim Willis, Extra Care Housing Programme Lead, Warwickshire County Council People Directorate, said: "A major issue for Warwickshire is finding housing with care solutions for a growing older population, especially where we have a rising demand in more rural areas. To keep people in those communities, we need the resources to support this - not just money but people. L&Q is listening to these issues and their investment in the county could really make a difference in terms of delivering homes and accessibility."
Ian Jelley, Director of Living Landscapes, Warwickshire Wildlife Trust, said: "While we are experts in the environment, we know that collaborating with partners who are experts in health and wellbeing enables us to leverage a wealth of knowledge and expertise to truly make a difference to our communities in Warwickshire. It's fantastic to hear that L&Q shares the same philosophy for collaborative working and I look forward to exploring a partnership that can lead to positive outcomes for wildlife, people and places in our community."
Margaret Moore, Coordinator, Leamington Night Shelter, said: "We currently lack support for homelessness, which can often lead to poor mental health among our communities. It is clear that L&Q wants to help communities in Warwickshire, and I believe their practical support could make a difference to people's lives so that they can reach their full potential."
Matthew Corbett, Director of the L&Q Foundation, who co-chaired the event, added: "Our ethos is to take a proactive approach to understanding the specific investment needs and opportunities for each area we operate in to be able to deliver a positive impact for the communities we serve."
Research undertaken by Warwick District Council shows the district will need to build 16,776 new homes between 2011 and 2029 to meet local need. In Stratford-on-Avon, at least 14,600 new homes will be required between 2011 and 2031, which is an average of 730 per year.
L&Q is already active in Warwickshire with ambitions to provide at least 850 much-needed new homes across the county over the next three years, of which over a third will be affordable. This summer, L&Q will launch 60 new homes at Birnam Mews in Tiddington, and in 2020, 450 homes at Beauchamp Park in Warwick.