Over £6,000 raised for homeless in Crisis Square Mile Run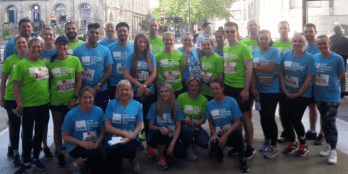 L&Q runners took to the streets last week to raise over £6,000 to help tackle homelessness.
Joining the 700 runners pounding the pavements for the annual Square Mile run were 48 L&Q employees raising money for Crisis.
Crisis was announced as our corporate charity partner for the next two years at Christmas, and the money raised by our runners will go towards the £50,000 that L&Q has pledged to donate over two years.
Competitors enjoyed sunny views of St Paul's Cathedral, the Millennium Bridge and Southwark Bridge as they followed either a four or six-mile route through central London.
The fastest runner taking part in the four-mile run was Jon Fish, who completed it in 26 minutes and 44 seconds. The fastest six-mile runner was Michael Rumsby, who finished in 44 minutes and 23 seconds.
Those who took part can look up their finishing times at https://resultsbase.net/event/4781/results
The team raised an impressive £3,210 which was then matched by the Foundation, bringing the total to £6,420 for Crisis.
Anyone wishing to add to the donations can visit the L&Q team online fundraising page. Every penny raised will help even more homeless people across the UK rebuild their lives through Crisis' housing, health and employment services.