Top of the Class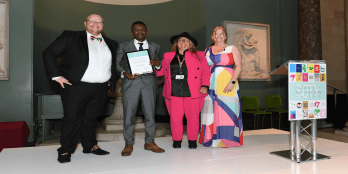 Last week, 25 prizes were handed out at the Student of the Year awards in Milton Keynes with help from L&Q, the headline sponsor of the event.
The awards ceremony is the highlight of the colleges calendar and seeks to celebrate the achievements of the students over the past 12 months. The theme of the night was diversity, and guests were asked to celebrate by wearing bright colours.
Maggie Page, Director of Design and Technical, and James Varley, Head of Joint Venture Partnerships for L&Q's Counties region, presented awards for ESOL and Alternative Provisions, and the Overall Student of the Year award. Sharon Boot from the L&Q Foundation played a key role in supporting the event.
Maggie Page said, "It was a pleasure to be involved in this fantastic event at Milton Keynes College.
"As a charitable housing association, L&Q seeks to create lasting benefits in the communities we operate in. We work closely with local suppliers and contractors and employ local people wherever possible. This event was a fantastic opportunity to meet inspirational students and discuss careers in design, engineering and construction work."
L&Q will be meeting with three of the winners in the coming weeks to give them advice and support on future career options.
In order to tackle the housing crisis, L&Q is expanding beyond its traditional areas of operation in London and the South East. We have identified Milton Keynes and Bedfordshire as a key area for growth and have already started work on 225 homes at Saxon Reach. Last month, we held a roundtable event with local councillors and organisations to discuss our community investment priorities for the region.
(Photo L-R Marc Gillham, Director of Funding and Data, MK College, Ayoub Abdalla, ESOL & Alternative Provision award winner, Maggie Page, Director of Design and Technical, L&Q, Dr Carole Mills, CEO of Milton Keynes College)