Construction begins on £1bn Beam Park scheme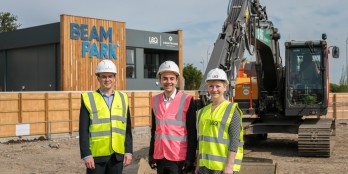 Last week we marked the beginning of construction at our 3,000-home Beam Park regeneration site in East London with Countryside. 
The groundbreaking ceremony was attended by James Murray, London's Deputy Mayor for Housing and Residential Development. The event was also attended by senior leaders from Countryside and L&Q, led by Iain McPherson, Chief Executive, Partnerships South, Countryside and Andy Rowland, Managing Director for the East Region at L&Q.

We've been working in partnership with Countryside to bring this major regeneration scheme forward, combining our expertise in design and placemaking to create a high quality new destination for London. 

Following the completion of preparatory works, the regeneration of Beam Park will now commence, transforming the derelict site of a former Ford manufacturing plant into a new and vibrant destination spanning 29-hectares (71.7 acres).

The development is the second largest housing scheme in the UK to gain planning permission in 2018, and one of only three regeneration schemes in London delivering 3,000 homes and providing 50% affordable housing.
At Beam Park we will build 1,513 affordable homes, creating a mixed community with significant infrastructure investment.

When the scheme is complete in 2030, Beam Park will deliver two schools, extensive community facilities, retail spaces, a gym, nursery, a multi-faith space and two energy centres.

The development will also deliver the brand new Beam Park railway station located on the C2C line, which will significantly enhance the area's direct links into Central London.

Sales of the new homes are due to launch in May this year, with the first homes ready in 2020. The first phase of the development is due to be fully completed by 2022.

Andy Rowland, Managing Director for the East Region commented: "We're delighted to be celebrating the start of construction works on site at Beam Park. This project will bring major benefits to East London, including much needed quality new homes with 50% affordable housing, alongside significant infrastructure improvements and community amenities.

Working with Countryside, we're proud to be involved in making such an important contribution to London's housing needs, meeting strong local demand by creating new homes in a wide range of tenures."