L&Q and partners will develop 172 affordable homes in Croydon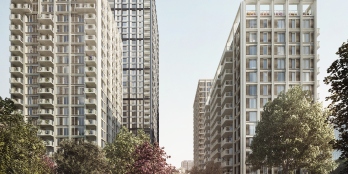 Charitable housing association L&Q, residential developer HUB and specialist impact investor Bridges Fund Management have agreed a £62m deal to develop 172 homes in Croydon, south London.
The forward funding deal will see L&Q fund and take ownership of two blocks, comprising 84 and 88 units, which form part of HUB's wider Taberner House development.
L&Q will provide a mixture of Shared Ownership and London Living Rent apartments in the two blocks, increasing the overall level of Affordable Housing being provided across the Taberner House development to 50%.
Designed by Stirling Prize-winning architect AHMM, the Taberner House scheme will provide a total of 513 homes in four blocks, with a mixture of rented and shared ownership homes, new retail space, new public realm, a revitalised Queen's Gardens including new play space, and a new café. The blocks feature rooftop gardens and front onto popular local park The Queen's Gardens.
Steve Sanham, HUB Managing Director, said: "The deal with L&Q follows a huge amount of collaborative working with multiple stakeholders, and importantly Croydon Council. It's this collaborative working which has seen this previously-stalled site unlocked for the exemplary residential scheme the site deserves – and we are particularly pleased that this deal has helped us increase the level of Affordable Housing across the development to 50%."
Simon Ringer, Head of Property Funds at Bridges, said: "There is a clear shortage of quality lower-cost housing in Greater London. So we're delighted to be able to transform this disused site into more than 500 new homes, half of which will now be classed as Affordable Housing – well ahead of the Council's original target.This deal with L&Q reflects the value of all the good work done by HUB and Bridges to make this happen."
Vicky Savage, Regional Managing Director, L&Q, said: "Everything we do begins with social purpose. L&Q's vision is that everyone has a quality home they can afford, and we combine our social purpose with commercial drive to create homes and neighbourhoods everyone can be proud of. We are absolutely committed to building more affordable housing."
Councillor Alison Butler, Cabinet Member for Homes and Gateway Services, said: "It's fantastic news to hear more than half of the homes on the Taberner House site will be affordable, including the 90 already agreed rented out by the council's Croydon Affordable Homes scheme. This development is an important part of Croydon's regeneration and it's extremely pleasing to know more affordable properties will be in a prime location within the town centre, close to a number of important public transport routes. I'm looking forward to seeing this site develop and eventually welcoming people to live in Croydon's town centre at an affordable cost."
The L&Q deal follows the announcement of a £100m forward funding deal with Legal & General back in May 2018. That deal will see Legal & General Investment Management take ownership of a 35-storey building on the Taberner House site, which will become a 251-unit build-to-rent tower.
HUB and Bridges are jointly developing a number of lower-cost housing developments across Greater London, in line with Bridges' focus on investing in needs-driven sectors and emerging locations. These projects could deliver over 1,500 homes with a combined value of over £500m.
As part of the development, adjacent park The Queen's Gardens will be enlarged and revitalised, with new landscaping and amenities. HUB and landscape architect Grant Associates involved the local community in a large collaborative design process, coordinated by consultant Kaizen, to develop a detailed brief that reflects Croydon's priorities and needs.
Completion of the Taberner House development is expected in 2021.
Savills advised HUB on the forward funding deal with L&Q.