Young actors encouraged to join 'life-changing' course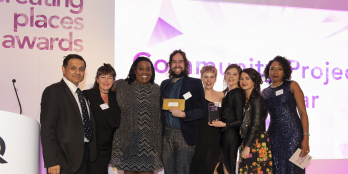 Aspiring actors in London are being encouraged to sign up to a new course that aims to increase diversity in the industry.
The National Youth Theatre's new Stepping Up course is specifically aimed at young people aged 19 to 24 who have less than 5 GCSEs and includes an OCNLR Level 2 qualification that means they can move on into further education if they choose to.
The course, which NYT patron and Fresh Meat actress Zawe Ashton described as "life-changing" for students, is free to those on benefits and includes pastoral support.
It also includes funds to cover the cost of travel, which can be prohibitive to students from disadvantaged backgrounds.
It is funded by the Foundation arm of L&Q housing association, who also funded last year's Playing Up, a similar course aimed at young people not in education or employment.
Safina Sampson, 23, was one of last year's Playing Up students. The mother-of-one, who has just finished shooting with the British Film Institute, credits the course with starting her career in acting.
She said: "I had previous experience in drama, but after I had my son four years ago I didn't know where to start and how to get back to doing what I loved. I heard about Playing Up through a friend and got invited for an audition a couple of months after I applied.
"I was out of work and out of education, so I wasn't really doing anything with myself. The course itself was the best thing that ever happened to me. I got to meet people from all sorts of backgrounds, some of them in the same situation as me, and some who had different issues. We became like a family, and the NYT helped us with everything we needed throughout the course.
"There was a lot of pastoral care to help people with children or disabilities, or whatever we needed. It built up my confidence and stopped me from limiting myself and not trying to do things because I didn't believe I'd succeed. They also covered the cost of auditions for drama school, which can be £80 each. This can be a lot for people from some backgrounds, and it can make you feel like you're not good enough if you can't afford it.
"I'd urge anyone in the same position to go for it. You get to do what you love, and you also get a Level 3 qualification and other skills that help you move on to higher education. I got into a drama school and I've just finished a film with the British Film Institute.
"I want to thank them so much for everything that they've done. They've made me the person I am today, and if it wasn't for them I wouldn't be able to go out and do my craft."
Zawe Ashton, who wrote 'Skunk' – a play that was performed by the Playing Up students in 2009, said: "Over the past decade, National Youth Theatre's Playing Up programme has provided life-changing opportunities to so many young people. The new Stepping Up course offers even more young people not only free drama training, but also a vital route back into education and the chance to take control of their future."
The National Youth Theatre were recognised for their work with a Community Project of the Year award at L&Q's annual Creating Places Awards last week.
The Stepping Up course starts in January 2019, and the deadline for applications is December 7 2018.
For more information visit https://www.nyt.org.uk/stepping-up