New home standard for re-lets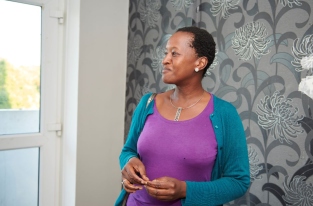 L&Q has today announced a new Home Standard for vacant properties, to give new residents a brighter, fresher start to their tenancy.
The new L&Q Home Standard policy will apply to their 2,500 homes which are re-let each year and meets the national Decent Homes Standard.
L&Q worked with a group of residents to agree a new standard for homes which are refurbished after one set of residents moves out and another moves in.
The change was made in response to feedback from residents. In an L&Q survey, almost two-thirds of people said they were satisfied with their home when they moved in. But some said they would have liked it to have been redecorated beforehand.
The changes were agreed with L&Q's Customer Experience Committee, chaired by resident and board member Fayann Simpson. The committee helps tenants get their voices get heard and ensures good customer service.
Around 50 staff and residents visited L&Q's Lewisham Park Tower property last month to view the new standards first-hand.
Resident representative, Nadya Enver, commented that L&Q is "…creating places and maintaining standards where people want to live, by getting it right the first time".
L&Qs new Home Standard includes:
•           Redecoration of all rooms (where necessary)
•           New carpet flooring to all living areas and hallways/landings spaces
•           New vinyl sheet flooring  to kitchen and bathrooms
•           Energy efficiency measures (where this is possible)
•           Higher level of cleaning (for example, specialist deep clean)
•           Replacement of kitchen units and bathroom fittings (where scheduled for replacement within five years).
Nigel Wiles, Director of Asset Management and Maintenance Strategy, said: "The void property Home Standard is a major step forward in delivering our vision - that everyone should have a quality home they can afford. In consultation with residents, we have developed a new standard for our vacant properties which will deliver a home ready for occupation at a quality and standard we can be proud of.
"We're continuing to work with our stakeholders, including contractors and residents, to deliver on the standard at high quality and value for money. As we gather more feedback from our customers we'll evaluate and update the document."
ENDS
Notes to editors
L&Q is one of the UK's leading housing associations and developers, managing more than 90,000 homes across London and the South East.
We are committed to tackling the housing crisis and have an ambitious plan to enable the delivery of another 100,000 quality new homes over ten years.
Half of our new homes will be genuinely affordable to people on average and lower incomes, with the other half available for private rent or sale, reflecting our belief that everyone should have a quality home they can afford.
We are a not-for-profit housing association and reinvest the money we make into building quality homes, creating successful communities and providing excellent services for residents.
As a charitable housing association our role goes beyond providing homes and housing services. We are a long-term partner in the neighbourhoods where we work. We hope to build aspiration, opportunity and confidence among residents through our £250m community foundation and our skills academy. 
Our care and support subsidiary, L&Q Living, provides housing assistance for older people and those with support needs.
For further information please visit www.lqgroup.org.uk