L&Q urges housing sector to become Social Mobility employers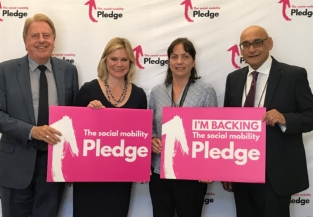 L&Q is the first housing association to become an accredited Social Mobility employer, joining the likes of ITV, BT, adidas and Vodafone.
The charitable housing association has today signed the Social Mobility Pledge, which was established by the Rt Hon Justine Greening MP, the former Secretary of State for Education.
The news comes just six months after L&Q relaunched its community foundation with a £250 million investment.
In 2017, L&Q helped 451 residents into paid work. It is now aiming to double this number through projects including scholarships, L&Q's skills academy and the schools partnership programme.
This year, it plans to recruit 60 new apprentices and 33 new graduates while a new round of school leavers will be able to apply for university scholarships.
L&Q is now urging other housing associations and developers to join up and become accredited Social Mobility employers.
The Pledge was launched in March and encourages companies to work with local schools and colleges, offer apprenticeships and adopt open recruitment polices such as name-blind or contextual recruitment.
It aims to ensure employees are able to progress in their careers based on talent and potential, not their upbringing, accent or personal connections with bosses.
A Social Mobility employer must demonstrate commitment to accessing and progressing talent from all backgrounds.
David Montague, Chief Executive of L&Q said: "This is how L&Q does business so signing up to the pledge was a 'no-brainer'. L&Q believes that no one should be denied the opportunity to achieve their potential because of where they live. That's why we're investing in the skills of our residents through our L&Q Foundation and Academy programmes, tackling stigma and creating opportunities for people to realise their full potential. I'm incredibly proud of the work our Foundation does in helping young people and adults into education and work."
Justine Greening MP said: "In Britain, where a person is born and brought up too often defines how far they can progress in life. That's unacceptable in the 21st century and as I talk to business leaders across the country, I see a real determination to change it. Solving the social mobility challenge is a crucial part of Britain's future success. Employers like L&Q are a big part of the solution through the opportunities they create and their support for education programmes.
"I applaud L&Q for signing the Pledge and echo their call for others to become social mobility employers. If businesses, big and small, North and South, whatever the sector, sign up, we'll make an enormous difference to social mobility and opportunity in Britain."
The Social Mobility Pledge was co-founded by David Harrison, chairman of the Harrison Centre for Social Mobility and managing partner of True Potential – a UK fintech firm which employs 250 people.
He said: "Social mobility is a national challenge because accent, upbringing and family connections with people at the top of organisations still unfairly influence recruitment and promotions.
"Also, while talent is evenly distributed across the country, opportunities which enable people to fulfil their potential are not. Social mobility benefits individuals, local communities, companies and the wider national economy. Signing up to the Social Mobility Pledge is a small but significant step that opens employers up to a greater talent pool and gives people a fair chance."