Work starts on Acton Gardens Community Centre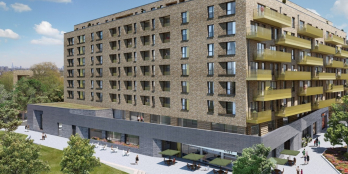 The award-winning Acton Gardens regeneration, a joint venture between L&Q and Countryside, has taken another major step forward with work starting on its new purpose built Community Centre.
Once completed, the 840m2 centre will be the focal point for the whole Acton Gardens community. The centre replaces existing facilities and has been designed through close working and consultation with local residents and community groups.
It will be based over two floors and will provide a flexible space for rent by community and voluntary organisations, social enterprises and commercial hire with three halls and two commercial kitchens on the ground floor and meeting rooms and office space on the first floor.
The new centre is due to open in January 2019 and Acton Gardens LLP is currently working to have an operator in place by September 2018.
1,346 new homes have been built or are currently under construction in Acton Gardens to date, transforming the South Acton estate by replacing 1,800 old council owned properties which had reached the end of their life.  Acton Gardens LLP has submitted an updated masterplan which proposes a further 1,954 new homes which will consist of properties available through London affordable rent, shared ownership, open market sale and private rent.  New social and community facilities will be provided centred around a 55,000 sq ft hub. The programme has 11 phases, starting in 2011 and due for completion by the end of 2028.
Acton Gardens has funded numerous local projects with residents through the Community Chest, is winner of Regeneration Award and a Project Award at the Housing Design Awards 2016, and in 2014 also won the Regeneration Project of the Year at the Evening Standard New Homes Awards.
David Stevenson, Head of Joint Ventures, Development and Regeneration – North Region at L&Q, said:
"L&Q are a long-term partner in the neighbourhoods where we work and the Acton Gardens Community Centre embodies that commitment.  It represents our shared vision between residents, L&Q and Countryside for supporting the regeneration of Acton Gardens, ensuring the development of new homes and infrastructure is enhanced by new community and commercial facilities. 
"It supports the transformation of Acton Gardens into a place where local people will want to live for many years to come.  The local community have been consulted at every step of the way and fully involved in the inception and development of the Community Centre and we hope it will provide a focal point for community activity and a much needed facility for local voluntary organisations to operate, providing a range of flexible spaces to cater for all occasions and groups."
Mike Woolliscroft, Managing Director for West London at Countryside Partnerships South, said:
"The delivery of a new community centre forms a crucial part of the entire Acton Gardens development, providing residents with a wide range of facilities and opportunities for community collaboration and wellbeing. Determining the design brief for the building involved working with the 18 active community groups in the area, together with the Acton Gardens community board, ensuring that we provided the local community with a fantastic space to suit their needs.
We look forward to construction completing later this year, and seeing the facility used as a positive and dynamic space for local residents."