 Proud to celebrate Pride!
HOMELIFE
October 2023
Last month, we were delighted to celebrate Pride in Manchester by marching with HouseProud North West and Rainbow Roofs at the parade for the second year running.
We're a member of HouseProud, a network of social housing providers which seeks to improve the way we engage, support and deliver services for our LGBT colleagues and the communities we serve. Rainbow Roofs is a partner of HouseProud and advocates for LGBT residents.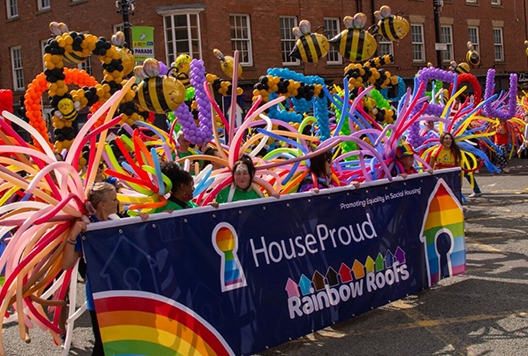 This year's Manchester Pride theme was 'Queerly Beloved', in celebration of ten years of marriage equality in England and Wales. HouseProud North West opted for a bee-related theme, with balloons spelling out 'Bee Loved, Bee Proud, Bee Home'. We were loud, colourful and proud!
We're also proud to have appeared six times in the Stonewall top 100 employers for inclusion in the workplace, with the support of Spectrum, our colleague network, and our LGBT Resident Forum.
If you would like to join the LGBT Resident Forum or find out more about how to get involved in equalities, diversity and inclusion related issues at L&Q, please complete this form and a member of the resident involvement team will get in touch with you.